Leadership & Staff
Pastor Peter Snyder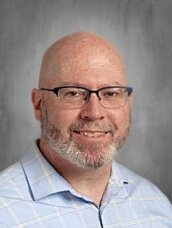 revsnyder@stpaulhw.com
Cell: 608 479-0778
Pastor Snyder is a born and raised Wisconsinite who has served at St. Paul since 2009. He and his wife Jenell (our school's kindergarten teacher; also born and raised in Wisconsin) have been married since 1993. They have 4 adult children and 4 grandchildren. They love this area and this part of Wisconsin, both the people and the countryside. They are thankful to be a part of the ministry of St. Paul, sharing the good news of forgiveness and life in Jesus.
Besides spending time with family and horses (Jenell's passion), the Snyders enjoy the outdoors and traveling. Wisconsin sports are also something Pastor Snyder likes to follow.
Education
B.A.—Northwestern College, Watertown, WI (1990)
M.Div.—Wisconsin Lutheran Seminary, Mequon, WI (1994)
Ministry
Prince of Peace Ev. Lutheran Church, Howell, MI (1994-1998)
Beautiful Savior Ev. Lutheran Church, College Station, TX (1998-2003)
St. Peter Ev. Lutheran Church, Appleton, WI (2003-2005)
Michigan Lutheran Seminary, Saginaw, MI - Director of Mission Advancement (2006-2009)
Shepherd of the Lakes Ev. Lutheran Church, Fenton, MI (2008-2009)
St. Paul Ev. Lutheran Church, Hillsboro & Wonewoc, WI (2009–Present)
Pastor Jacob Limpert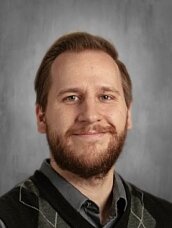 revlimpert@stpaulhw.com
Cell: 608 462-7601
Jacob Limpert was born in Tomball, TX, and grew up in Rochester, MN, the fourth of six kids. He graduated from St. Croix Lutheran High School (West St. Paul, MN) in 2012, and from Martin Luther College (New Ulm, MN) in 2016. From there he went on to continue his training for pastoral ministry at Wisconsin Lutheran Seminary in Mequon, WI. He served his vicar year, 2018-2019, at Beautiful Savior Lutheran Church in Green Bay, WI. There he met his wife, Jessica. The two were united in marriage on June 6, 2020.
Jacob graduated from WLS on May 21, 2020 and was assigned to serve at St. Paul's in Wonewoc. He was ordained and installed as pastor at St. Paul's on July 12, 2020. He has been blessed to begin his ministry here and in Hillsboro as the formation of our current multi-site congregation was made official on the tail-end of his first year of service. He looks forward to seeing how God will continue to bless the people of our communities through our continuing gospel work.
Together with his wife, Pastor Limpert enjoys getting cozy with a good book (sci-fi and fantasy especially), hiking, gardening, and taking care of their cats and dog. He also has a love of learning, often in the form of trivia to be dished out in Bible study tangents.
Education
B.A.—Martin Luther College, New Ulm, MN (2016)
M.Div.—Wisconsin Lutheran Seminary, Mequon, WI (2020)
Ministry
St. Paul Ev. Lutheran Church, Hillsboro & Wonewoc, WI (2020–Present)
Jan Fick

Administrative Assistant
office@stpaulhw.com
Office: 608 464-3212
Jan has served in various capacities at St. Paul's Church and School for 39 years. She has been secretary/administrative assistant since 2010. What she likes most about what she does, is seeing the joy of Jesus in the children at school and watching their faith grow as they do.
Jan graduated from Hillsboro High School in 1973 and she and her husband, Steve, were married in 1974. They have 3 adult children and 6 grandchildren ranging in age from 3-24.
In their free time, both Jan and Steve enjoy gardening, taking long walks with their dogs and going on day trips.
St. Paul's Lutheran School Faculty
Valerie Hagemann—Grades 6–8
Corey Pieper—Grades 3–5
Helen Rick—Grades 1–2
Jenell Snyder—Kindergarten
Annalies Brander—3K, 4K
Click here for more about our teachers. (Coming Soon)
Congregational Leadership
The members of these boards help oversee the operation of our church and school, assist the pastors in providing spiritual care to members, and much more as representatives of the congregation as a whole. Learn more about these and other service groups in our congregation here.
Board of Trustees
Chris Frick—President
Matt Wurster—Vice-President
Troy Gander—Recording Secretary
Steve Mitchell—Treasurer
Tom Wolfe
Mark Honer
Sam Mobley
Board of Elders
Matt Wurster
Ethan Danklefsen
Chris Frick
Steve Mitchell
Sam Mobley
Rich Voigt
Board of Education
Troy Gander—Chairman
Brandon Gehri—Treasurer
Jay Bolton
Lee Schnell
Jeff Wafle